Dental Crowns Melrose MA
Dental Crowns Melrose MA | Not sure about dental crowns? Then, this blog is for you. Dental crowns are an amazing oral restorative option that protects and restores your smile. There are different reasons why a patient may need a dental crown. Learn more below about dental crowns and the reasons you may need them.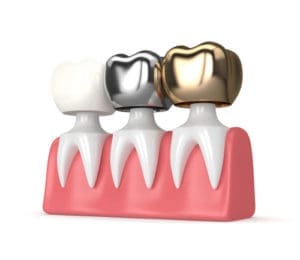 What are dental crowns?
A dental crown is a tooth-like "cap" that covers the tooth. It functions and looks like a normal tooth. Dental crowns can be made of different materials like metallic, resin, ceramic, and porcelain-fused-to-metal.
Dental crowns protect weakened teeth.
Teeth can become severely damaged and weakened. Situations can be related to injury, decay, or infection. A tooth can become fractured or damaged from injury. A dental crown could be recommended to protect the tooth from further damage. Tooth decay can usually be corrected with a dental filling. However, depending on the size, a dental crown may be needed. Infections are also likely to occur from decay. Root canal procedures are recommended to remove the infection and require a dental crown to seal the tooth correctly when finished.
Dental crowns perfect smiles.
Patients with missing teeth can use dental crowns as part of their teeth replacement. There are different options for teeth replacement like dentures, bridges, and implants. But, it's the latter two that require dental crowns as part of the final restorative process. Dental bridges consist of two dental crowns on each end with a pontic tooth or teeth in between. Dental implants, which are titanium artificial tooth roots, require an abutment and a dental crown to fully replace the tooth.
Speak to us today regarding dental crowns in Melrose MA. Our dental office is conveniently located at 12 Porter Street Melrose, MA 02176. Contact us at (781) 665-1552 to schedule a consultation or book online here. Our team at Melrose Dental Group is eager to assist.