Dental Veneers Melrose MA
Dental Veneers are thin laminate shells that are tooth-colored.  They are used for covering the front side of the teeth to improve a patient's smile. In other words, dental veneers are mostly used to improve your physical and aesthetic appearance. Since the shells are permanently bonded to the front of the teeth, they change the teeth's color, shape, length, or size.  Dental veneers are used to fix various dental problems such as; teeth discoloration, chipped or broken teeth, worn down teeth, uneven, misaligned or irregularly shaped teeth, and teeth gaps.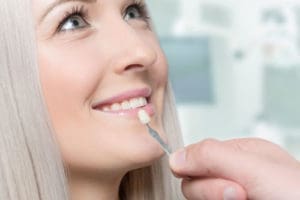 Types of Dental Veneers
There are different types of dental veneers from which you and your dentist should discuss the best one that is a good solution for your dental problem.  
Porcelain Veneers – these are the most popular veneers and are mostly preferred for correcting issues of color and shape. Even though they are a bit expensive, you can still get back your money's worth as they can last anywhere from 10 to 20 years.
Composite veneers – these are quite similar to porcelain veneers but are made from translucent resin. They are typically used to address gaps between teeth and minor chips in teeth. Although they are less expensive compared to porcelain veneers, they are not quite as durable.
Pros and Cons of Dental Veneers
Dental veneers can be a permanent solution to your dental problems, however, it is always best to know what to expect before choosing veneers.
Pros
The most obvious benefit of dental veneers is the instant improvement in your confidence. Veneers are also molded specifically for your teeth which make it nearly impossible to tell the difference. Also, veneers don't only come in white; you can even select the shade you want. You can even opt for something close to your natural tooth color so that the change wouldn't be that obvious.
In most cases, the veneers are bonded to your teeth in whatever form they are in which means that no additional shaping or drilling is required. Also, no special maintenance is needed, just the usual brushing and flossing.
Additionally, the gum tissue tolerates porcelain well; therefore, you have nothing to worry about the health of your gums.
Cons
Once they are made, veneers do not change color which is something good; however, they do not prevent your natural teeth from discoloring. This should also be an issue when the rest of your teeth without veneers start changing color giving you an awkward difference in your smile. But, sticking to good dental hygiene and regular dental checkups can prevent this from happening.
Just like your natural teeth, veneers are also prone to cracking and chipping. Due to this, they are not recommended for people who have habits of grinding their teeth, biting their nails or chewing on ice. The good news is these habits can be corrected and you can still get your veneers for that brighter smile.  
Lastly, while the gum can tolerate porcelain, it is not recommended for anyone with a history of gum disease, weakened enamel or other dental conditions. If you have this issue, you can discuss with your dentist other best solutions for your dental problem.
Cost of Dental Veneers
The cost of veneers greatly varies from location to location. Also, some of the other factors that affect the cost include what brand name your dentist is using, the extent of your procedure, and the expertise of the dentist as well as the area's cost of living. Sometimes veneers can also be covered by insurance since they are considered a cosmetic procedure but you should check with your specific dental insurance company to be sure.
Learn More
Melrose Dental Group offers a variety of dental treatments, including dental veneers. Learn more with an exam and consultation. Call 781-242-3388 or book an appointment online.