Dental Services in Melrose MA
Cosmetic Dentistry
Crowns
A crown is a dental restoration that completely covers the visible portion of a tooth. They are frequently used to restore teeth that are severely worn down or decayed, fractured or weakened by multiple restorations or following root canal procedures. Dental crowns can be also used for completely cosmetic reasons in cases when teeth have extensive stains, surface damage or a strange shape.
Composite
The material used in cosmetic fillings is a safe, strong, tooth-colored composite resin made of ceramic and plastic compounds. Composite fillings can be done in one visit. Once the decay is removed from the tooth, it is filled with this composite material and hardened immediately afterwards. Composite resin is designed to resemble the look and feel of natural tooth structure offering a durable restoration. Modern composite resins are strong enough to be also used for restorations on molars, where bite force from chewing is higher.
Invisalign
Invisalign is an innovative, new orthodontic treatment to straighten teeth. Without the use of metal brackets and bars, your teeth can be gently moved into proper alignment in a more discrete way by using fully removable aligner trays which are customized to fit your teeth so that most people won't even notice they're there and you can remove your them to eat, drink, brush your teeth, floss. Molds are taken of your teeth throughout the process, so you receive a new set every several weeks as your teeth are gently guided into the proper position for a straight line of beautiful teeth.
Dental Implants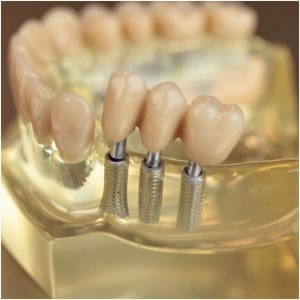 Dental implants are one of the most popular and permanent solutions to replace missing teeth, and are recommended as the best option. They provide a strong foundation for fixed or removable replacement teeth. Dental implants are small anchors made of a biocompatible metal called titanium, which are placed in the jawbone in the same place that your natural root once was. These anchors begin to fuse with the bone over a few months. After the fusing process, known as osseointegration, abutment posts are inserted into the anchors to allow for a custom, tooth shape cap to be attached afterwards. This cap is sculpted and colored to match the shape, color, and size of your natural teeth and complete your new smile.
Dental implants are not an option for everyone. In order for your jawbone to fuse correctly with the implant, you'll need to have enough bone mass before the procedure. We suggest getting an implant as soon as possible after you've lost a permanent tooth. The longer you wait, the more likely your bone will be reabsorbed back into your body. However, even if you have started to lose your natural bone, procedures to augment the bone, including a bone graft or a sinus lift can be performed before the implants are placed.
Dental Veneers
Veneers
Porcelain veneers are thin pieces of porcelain used to recreate the natural look and transform the appearance of teeth that are chipped, stained or oddly shaped. Your teeth can even appear straighter with the application of veneers.
Having a beautiful smile plays an important part in one's mental, emotional and social well‐being. When you can talk and smile without feeling the need to cover up your teeth, it opens up opportunities for greater confidence, which can lead to greater success in your work life and personal relationships.
If you have thought about cosmetic dentistry in the past, or are considering it now, don't put it off! You can begin to enjoy the benefits of beautiful, healthy teeth in as little as one or two visits. Many of our services are virtually painless, but we will ensure that you feel relaxed, informed and comfortable in our office, so that you will be sure to have a pleasant experience. Stop by or give us a call to set up an appointment at your earliest convenience. Come and see what we can do for you, and let us get you on your way to a more attractive smile today!
Tooth Whitening
If your teeth have stains or appear dull, we can brighten them up for you. Stains or darkening can occur over time from diet, habits or even age. We use only the best kinds of materials, they are fairly safe to use if the instructions are followed carefully and we can decide together on the optimum shade of white for your teeth, so that you come away with a bright smile that looks both natural and beautiful.
Preventive Care
Exams
Regular exams are recommended by the American Dental Association for adults and children who visit the dentist. In addition to addressing any of your dental concerns, having an exam twice a year can help in early detection of dental health problems, such as gingivitis, periodontal disease, tooth decay, prevent complications such as dental infections, tooth loss and you might be able to avoid more complex treatment. Dental x-rays are used to help diagnose disease or damage that is not visible during a clinical examination. The doctor will check your teeth for signs of cavities, fractures, or aging and worn dental work as well as asses the health of your gums and tissues surrounding the teeth. A complementary oral cancer screening is performed at every exam where we will look at the areas around the lips, tongue and throat. These regular dental checkups give us a chance to catch up with you and give you the care that you deserve.
Hygiene Visits
A professional dental cleaning is performed at every hygiene visit in our office and involves the removal of plaque and tartar along with the evaluation of surrounding gums. Specialized instruments like ultrasonic devices that emit vibrations and are cooled by water or hand instruments are used to gently remove these deposits. Once all the tooth surfaces have been cleaned of tartar and plaque, the teeth are polished by the hygienist who will work to floss between each of your teeth and reinforce proper preventive home care techniques.
We strive to help you maintain an optimal oral health and ensure this by checking that the gums fit tightly around your teeth. However gingivitis and periodontal disease can occur when deeper pockets develop between your gums and teeth where plaque and calculus can accumulate. Scaling and root planing which is often known as a "deep cleaning" allows for cleaning of the teeth on and beneath the gum line, as far as the base of the root, enabling the gum tissue to recover from the early effects of disease. Without treatment, the gum disease can progress and further damage can occur. Scaling and root planing is a relatively quick, effective treatment for the beginning stages of the disease.
Sealants
Dental sealants are a safe resin material applied to the surfaces of teeth (commonly permanent molars) to prevent cavities. Sealants fill in the crevices of a tooth and protect them from cavity causing agents like food and plaque. The teeth are prepped for the sealant application and the sealant is painted directly on the chewing surface of the teeth and then hardened. Sealants are applied in one visit.
Dental sealants are known to reduce significantly the risk for caries on permanent molars. They aren't just for young children. Older kids, teens and adults can benefit from dental sealants.
Complete & Partial Dentures
Complete dentures are used when all the teeth are missing, while partial dentures are used when some natural teeth remain.
A denture is a removable replacement for missing teeth and surrounding tissues. Two types of dentures are available, complete and partial dentures.
Dental Services in Melrose MA
12 Porter Street, Melrose, MA 02176 – phone (781) 665-1552 – fax (781) 665-5826
Copyright © Melrose Dental Group | Dr. Piro Leno. All rights reserved.
 Melrose Dental Group | 12 Porter Street Melrose, MA 02170 | (781) 665-1552