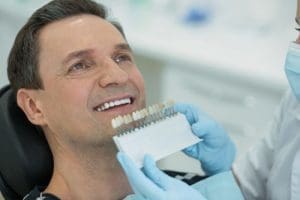 Dental veneers are thin laminates that are placed in front of teeth for dental aesthetics. Veneers are used to improve a tooth's color, shape and size. Dental veneers are either composite resin or porcelain and are custom-made for the most natural look. Before application, the dentist removes the enamel from the receiving tooth. Next, the veneer is adhered with cement and a light beam activates the hardening process.
What is the difference between composite and porcelain veneers?
Composite veneers are more affordable and are easier to fix if damaged. While, porcelain veneers are sturdier, more stain-resistant, and appear more natural.
Are there any cons to getting dental veneers?
Your teeth and gums need to be healthy. If you suffer from bruxism (teeth clenching or grinding), you will need a mouth guard to protect the veneers. Tooth enamel is permanently loss during the application. Lastly, veneers are not permanent. They will need to be replaced in the future.
What is the maintenance for dental veneers?
Regular at-home dental care is all you need aside from regular dental exams and cleanings. Avoid biting on hard foods because that could damage your veneers. After the procedure, if you notice a change in your bite, let us know. We can correct it.
Are there any alternatives to dental veneers?
Depending on your dental needs, we may offer the option of dental bonding or dental crowns. Your consultation and exam will best determine the recommended treatment. Schedule yours today.
12 Porter Street, Melrose, MA 02176 – phone (781) 665-1552 – fax (781) 665-5826
Copyright © Melrose Dental Group | Dr. Piro Leno. All rights reserved.
 Melrose Dental Group | 12 Porter Street Melrose, MA 02170 | (781) 665-1552