Cosmetic Dentist
Cosmetic Dentist
A brilliant smile is a great way to express joy and happiness. However, if you feel ill at ease about your teeth, you may find smiling to be emotionally taxing. With missing, stained, or chipped teeth, the anticipated embarrassment when you smile can outweigh your urge to express your happiness openly.  
In case your teeth or mouth has flaws, you can correct them with a cosmetic dentist. Your cosmetic dentist may use any of the following dental procedures to restore your sparkling smile.  Learn more below and contact Melrose Dental Group today.
Dental Implants
A dental implant is an artificial tooth that is placed in your jaw through a surgical operation. Your cosmetic dentist may recommend a dental implant in a case where bridges are inappropriate or impossible. A dental implant gets supported directly by your jaw and not on the other existing teeth. This support makes it sturdy and easy to maintain because it acts just like your regular tooth.
Dentures
Dentures are removable artificial teeth made of porcelain, metal, or acrylic resin. You can choose dentures whose color matches the color of your teeth, so they blend in without getting noticed. Your cosmetic dentist will assure your set fits and looks perfect.
Porcelain Veneers
Porcelain veneers are made custom-made thin laminates. They conceal several imperfections, including discoloration, worn down tooth, gaps between teeth, cracked teeth, crooked teeth, and chipped teeth. In addition, veneers are very easy to place, and can dramatically improve your smile.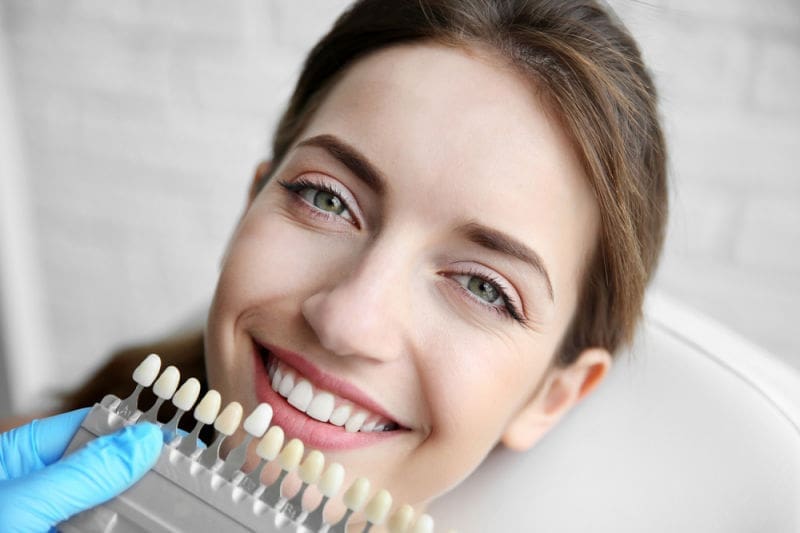 Gum Surgery
If you are suffering from a periodontal disease that has ravaged and scarred your gum tissue, your cosmetic dentist may recommend gum surgery. In short, your gums will get reshaped using tissues obtained from your palate. 
Teeth Whitening
Teeth whitening removes discoloration, and stains caused by food and drinks, medicines, and some lifestyle habits such as smoking. This procedure can be done in the office or the cosmetic dentist can give you a teeth whitening kit to use at home. 
Dental Crowns
Your cosmetic dentist can recommend ceramic crowns if you have discolored, stained, or cracked teeth. Placing the crowns is a pain-free and non-surgical procedure. Crowns are tooth-like caps. They are placed over your teeth to improve their external appearance and to protect them from further damage. 
Dental Bridges
Bridges can replace missing teeth. A bridge may contain one, two, or even more artificial teeth. Also, they are ideal for one or more adjacent missing teeth.
Invisalign
Invisalign is great for overlapping, misaligned, or crooked teeth. It is an aligner used to correct these conditions to ensure your teeth get straightened up. Manufacturers use flexible and clear materials to make Invisalign, which makes it invisible. It is effortless to remove and is more convenient and comfortable than the metal braces. In addition, Invisalign is great for teens and adults.
Learn More
Contact our cosmetic dentist at Melrose Dental Group. Our office offers a wide range of services to help create your ideal smile. Learn more with a consultation. Call (781) 242-3388  or book an appointment online. Our team would be delighted to meet you.