Cosmetic Dentistry Melrose
Cosmetic dentistry combines aesthetic materials with restorative techniques to create healthier-looking smiles that boost your self-confidence. If you feel embarrassed by a flaw in your tooth or don't like to let your teeth show during social situations, our wide variety of cosmetic treatments can help.
Depending on your personal goals and situation, your smile makeover can be as modest or dramatic as you want it to be. There truly is something for everyone (and every budget.)
Common Cosmetic Dentistry Treatments
Typically, you have more than one option to choose from when it comes to enhancing your teeth. In some cases, we'll combine a variety of cosmetic treatments to help you get the results you're looking for. Here are some of the most common aesthetic services that we provide:
Dental Veneers
For that "go big or go home" smile design, dental veneers are the treatment of choice. Veneers are thin porcelain shells that we attach to the front of your natural teeth, immediately changing the way they look from the outside. Each veneer is crafted to reflect the shade, shape, and contour of your choice. In most cases we will recommend 6-8 veneers across your upper front teeth (depending on how wide your smile is) for optimal results. Rarely do veneers need to be placed on the lower front teeth, due to the way they bite together.
Veneers require two appointments in most cases. The separate visits allow us to prep your teeth and have the porcelain designed in a lab. However, same-day composite veneers may be a viable option, especially if you only need to address 1-2 teeth in your mouth. Although composite veneers are not as durable, they are a more affordable alternative if you do not need a full smile design.
Teeth Whitening
Professional teeth whitening offers dramatic results and works both quicker and stronger than anything sold through a retailer. Our high-grade solutions erase deep stains and lighten the color of your healthy tooth enamel.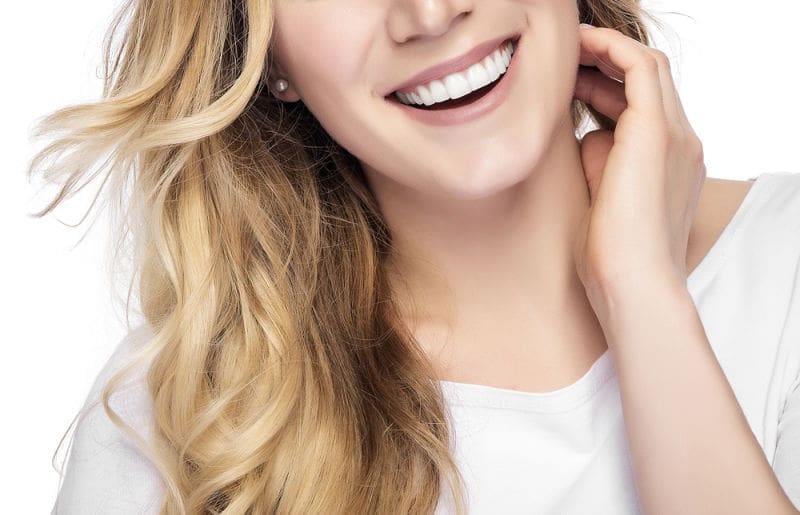 Whitening is a great way to jump-start your smile makeover by providing a brighter foundation that other restorations are matched against. Additionally, we suggest whitening before getting any tooth-colored treatments in your front teeth, as those materials cannot be bleached out at a later time.
Depending on your personal preferences, we can arrange for a take-home whitening kit or in-house treatment (about an hour.) You can easily touch up your whitening to help results last for years! 
Dental Bonding
Same-day dental bonding allows us to quickly address minor surface flaws in your teeth. Small gaps or chipped enamel are just a couple of examples. In short, the material is shaped by hand to cover and recreate your tooth shape, making it appear whole and healthy. Numbing may not even be necessary!
Ceramic Restorations
Do you have visible tooth decay or other issues that require attention? Fortunately, our restorative crowns and fillings are crafted from aesthetically pleasing materials like ceramic and composite. Each is matched to your tooth, allowing the final design to look and feel as natural as possible. White fillings and crowns are great for teeth that may not qualify for traditional veneers or bonding due to structural concerns.
Missing Tooth Treatments
Although replacing a missing tooth is a restorative process, it also plays a cosmetic role. We can walk you through a variety of solutions — such as dental implants, ceramic bridges, or even a removable partial denture — to help you fill in the gap in your smile.
Smile Makeover Candidates
In general, the ideal cosmetic dentistry candidate will be someone with healthy teeth and gums. We do not want to place veneers or apply whitening products onto teeth with active disease. However, if you do have existing decay or gum health issues, we can incorporate cosmetic restorations (like white fillings and crowns) into your care plan to provide an aesthetic angle during your treatment. 
Cosmetic Dentistry Consultations
Overall, smile makeovers come in all shapes and sizes. Find out which cosmetic treatment is best for you. Contact Melrose Dental Group today to reserve a no-pressure, one-on-one consultation. Call 781-665-1552 or book consultation online. Moreover, new patients are welcome.