Invisalign For Adults
Invisalign For Adults | If you thought that Invisalign was just for teenagers, think again. The very same benefits that teenagers receive from this innovative teeth straightening system is also available for adults. You can have your teeth straightened while also enjoying all of the foods and snacks that you normally eat.
Invisalign for adults is a reality that a growing number of people are choosing over traditional braces.
What is Invisalign?
Invisalign is an orthodontic system designed to straighten teeth using customized sets of clear plastic aligners that are virtually invisible to anyone but the wearer. At certain intervals – about every two weeks – you will have your aligners swapped out for a new set that continually shifts your teeth into their proper positions.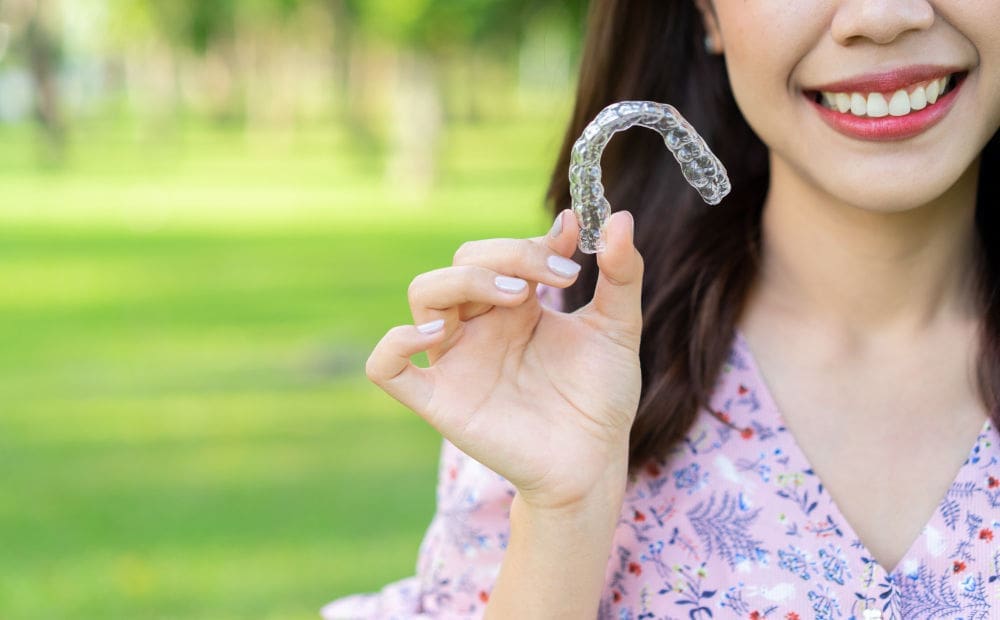 Invisalign offers several advantages over braces:
Conveniently removable at any time
Allows you to eat all of your favorite foods and snacks
Almost invisible
Extremely comfortable. No metal wires or brackets.
Removable Treatment
Invisalign is completely removable by the user at any time that they like. You just need to wear them for the recommended 22 hours a day so that your teeth are shifted in keeping with your treatment plan.
The fact that Invisalign is removable is a major advantage that the system has over traditional braces that are only removable by an orthodontist. So this offers an incredible benefit of convenience and freedom to the wearer, but it also places them under more responsibility. You will need to keep them in your mouth whenever you are not brushing or flossing your teeth, or eating. This ensures that there are no problems with your treatment plan.
Undetectable
The Invisalign system was designed utilizing clear plastic, which makes it almost undetectable to the outside world. This is an amazing benefit for anyone who wants a treatment that is as unobtrusive as possible.
Comfort
One of the main advantages that Invisalign has over traditional metal braces is that no clunky and uncomfortable metal wires and brackets are used. The edges of the aligners are smooth, so they will not irritate your teeth and gums.
At first, it might seem a little strange in your mouth. However, this period quickly fades as your teeth and mouth adjust to the system.
Convenience
As mentioned earlier, Invisalign allows you to remove your plastic aligners whenever you like. So you can eat crunchy, sticky or chewy foods to your heart's content. Contrast that with conventional metal braces that disallow foods that could damage the metal or stick to it.
Your Invisalign Treatment
Are you ready to take your teeth and smile to the next level with Invisalign for adults? Please contact your dentist or orthodontist today and schedule a consultation, at which time you can ask any additional questions that you may have about this remarkable treatment.