Dentures Melrose MA
Missing or damaged teeth is a widespread occurrence in many people. Missing teeth cause discomfort, inhibits speech and chewing. Fortunately, dentures offer patients a convenient way to restore their smile. Learn more about dentures below and contact us today.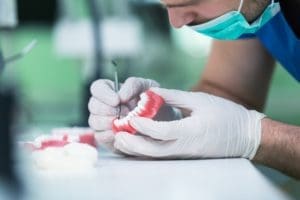 What are Dentures?
Dentures are removable mouth appliances that restore some or all teeth. A standard set is removable, but there are semi-permanent dentures that are attached to the gum and bony structure in the oral cavity.
There are two types available, the complete and partial. When all teeth are missing, the preferred dentures are the completes while partiasl are used when a set of teeth are missing. Dentures are made out of several materials, the most common being Valplast. Dentures are made from a gum colored acrylic base in combination with porcelain, plastic and metallic alloys for structural strength and stability of the prosthetic teeth.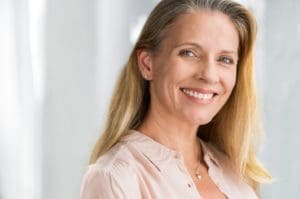 Why Dentures are Necessary
There are various reasons why you may need dentures. Your dentist might recommend removable mouth appliances in instances when one has lost all their natural teeth as a result of injury or accident, or in cases of extensive damage resulting from dental diseases like gum disease or extensive tooth decay.
These removable appliances appear and function as natural teeth. They aid in restoring the normal function of teeth, helping you retain your ability to speak with no limitations, bite and chew food and maintain a beautiful, healthy smile. Dentures also help in restoring and observing oral hygiene and maintain proper oral health, which impacts your wholesome health.
How to Maintain Dentures
Removable mouth appliances need meticulous care to prevent damage and warping. We recommend the following tips.
Ensure that you clean and rinse them thoroughly to remove any food particles

Avoid dropping them on a hard surface which can damage them. Also, avoid bending them when cleaning which can damage the plastic composition.

Ensure you thoroughly clean your mouth after removing your set, This helps in maintaining proper oral hygiene measures

Make it a routine to at least brush your set once every day. Do not clean your set when they are inside your mouth

Leave your set soaking overnight in water or denture -soaking solution and properly store them when not in use

Before putting them in the mouth, rinse the set in clean water

Ensure you visit your dentist regularly for dental examination and check-up
Dentures are essential when one has missing or damaged teeth as they play the role of the natural teeth. The denture comes in the natural color of teeth, helping regain the confidence and smile of having regular teeth. The function of teeth and gums are restored when using your set, and one can comfortably have a normal conversation, eat food without limitations and proudly and comfortably smile in front of others.
Learn More
Melrose Dental Group offers a variety of dental solutions. Learn more about teeth replacement by contacting us today. Call 781-665-1552 or book an appointment online.