Melrose Emergency Dentist
Dental emergencies come in all shapes and sizes. Some cause severe pain, while others make you question whether it's actually an emergency or not. Our Melrose emergency dentist is available to assist you. Contact our office with any dental concerns.
Should You Call Our Melrose Emergency Dentist?
Anytime you break or chip a front tooth, it can interfere with your daily activities. You may feel too embarrassed to go to work (even if it's just on a Zoom call) or out in public without covering your mouth. If there's a significant issue that detracts from your smile, contact us right away.
Are You in Pain?
Toothaches can be one of the most painful experiences you ever go through. Whether the pain is sharp or dull, over-the-counter medications barely help. The best thing to do is to find out how quickly you can get into our office. From there we'll make you comfortable and then discuss what treatment options you have.
Are You Able to Eat or Go to Work/School?
Is your dental emergency interfering with normal things like being able to eat, drink, or in the case of a child, send them to school? Then you need emergency treatment. Try not to "wait it out", as dental issues don't resolve on their own. And chances are the longer you wait to seek care, the more complex the condition becomes. Always contact our Melrose emergency dentist with any questions regarding your concern.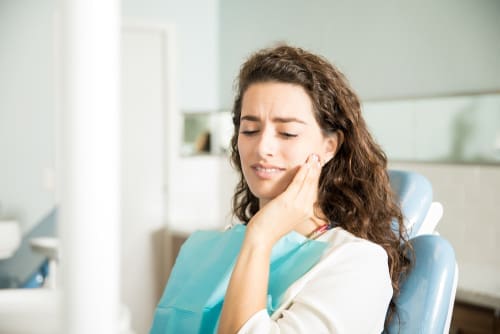 Common Dental Emergencies and What to Do
Depending on what type of dental emergency you're experiencing, here are some important things to keep in mind.
Chipped Teeth — If possible, try to locate the broken tooth fragment. If we see you within the next hour or so it may be possible to bond it back to your tooth. Do not try to reattach it on your own. In the meantime, store it in a sealed container and keep it completely submerged in milk or saline. Saliva works too, if you have enough!
Knocked Out Teeth — Avulsed teeth can be reimplanted in some cases, as long as you seek dental care immediately. Do not touch the tooth by the root, as you can damage the microscopic fibers that aid in reattachment. Instead, only handle the crown. If you see visible dirt, feel free to hold your tooth under a slow stream of tap water. Store it as you would a chipped fragment and come straight to our office.
 Broken Filling or Crown — Older restorations can occasionally fall out if they are leaky or new areas of decay develop underneath them. If it's a fairly newer crown, the bonding may have simply given out and it may be possible to recement it in place. Plan to schedule an exam at your earliest convenience and do not chew on that side of your mouth. Temporary filling material is available at most drugstores and can help you prevent food catching in that area until you get to our office.
Abscessed Tooth — Dental abscesses may not hurt, or they may feel excruciating. Look for signs of drainage (like a fistula or pimple) on the gums. Rinse with warm saltwater and take ibuprofen to alleviate the swelling. Book a visit as soon as possible.
Bleeding or Swelling — Severe facial swelling always warrants a trip to the emergency room. The same goes for uncontrollable bleeding. If the bleeding is minor, apply steady pressure until it subsides. For mild swelling, take an anti-inflammatory (like ibuprofen) and rinse with warm saltwater. Seek out an appointment as soon as possible.
Same Day Emergency Dentistry
When possible, we do our very best to see you on the same day. The first thing to do is call our office to let us know what's going on. We'll talk you through the steps to take and determine how soon you need to be seen. It may be necessary to have you come to the office immediately, while other conditions can be scheduled out several days in advance. First and foremost, seek a professional opinion instead of trying to treat the emergency on your own!
 Dental emergencies should not be treated at the hospital room unless they involve severe swelling or bleeding. Always seek out care from a trusted family dentist who has the right equipment and resources required to treat your concern. Otherwise you simply risk continued flare-ups until the tooth is fixed.
It's Best to Call Early
Tooth pain occasionally comes and goes, but issues like decay and abscesses cannot heal themselves. Professional treatment is required. If you're experiencing a dental emergency or suspect that something is wrong with your tooth, contact us right away. We'll rearrange our schedule to accommodate you as quickly as possible.
 Need a Melrose emergency dentist? Call Melrose Dental Group or request an appointment online. New patients are always welcome.